Private House vs. Apartments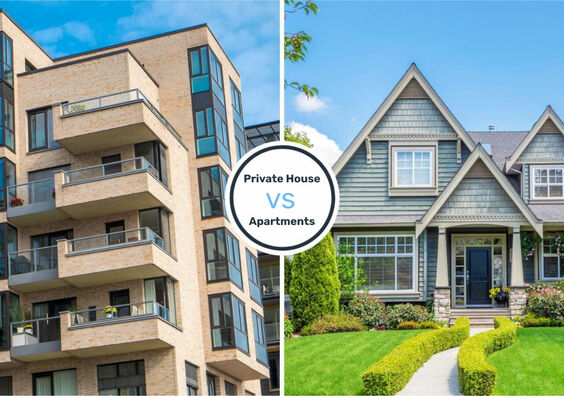 One of the never-ending debate is whether to rent an apartment or buy a house is still on the top list for discussion among many people. No doubt that good jobs and a stable market have opened a lot of opportunities for the buyers to look around for the apartment and condos with good amenities and surroundings. If you also hold a similar interest and looking forward to making an investment in some property then certainly you have landed up on the right page. Although there are agents to give you an opinion on property investment, no-one can actually give you an accurate answer to your problem. Here are some important guidelines that can help you know whether apartment renting is a good option for buying a home is actually worth.
More than deciding on whether apartment for rent is worth option or buying a home, the challenge comes up when it comes to comparing the rent rates, amenities and property taxes to name a few. To ease down your problem, here are some guidelines that can help.
Pros Of Renting An Apartment
It gives you a flexible and most convenient way to shift to another location. There is not much paperwork to do and the lease can be full or short term depending upon your need.
You don't have to really worry about the maintenance as the owner of the apartment makes it a point to actually handle it. When it comes to repairs, it is a maintenance staff that handles the cost.
Most apartments are located in the area whether a neighborhood is quite dense. Not only apartments, even if you wish to look around for condos for rent there will not be much problem.
Cons Of Renting An Apartment
Although apartment renting has got many benefits, but you will eventually have to compromise on the home space. It might not be as great as you would expect in a rental unit.
Often there are restrictions put by the owners on remodeling the house which can be another disadvantage.
Pros Of Buying a House
To buy a house can be quite a stressful journey at the beginning but once all things are sorted out, you have a long way to go. Talking of which, you will not have to compromise with space and you can decorate the house as you want. The good part is there are certain tax deductions that you can avail once you own a house such as a mortgage interest deduction. You don't have to worry about talking a basement for rent as everything is paid by you at once.
Cons Of Buying a House
You must think of this option only if you have financial stability. Besides, it is also one lifestyle commitment which means if you have a job that requires a lot of traveling then buying a house may not be a good option for you.
Whether you are planning to take a major life-changing decision like shifting to a new place for a better job, getting married, or want to save money on property tax, then you must think twice before owning a house. If you are quite settled at a monetary level and want to invest for better returns then you looking out for house rental options to make no sense. Every coin has two sides now it is entirely on you what can actually give you more benefits.