Interior Design Trends for 2019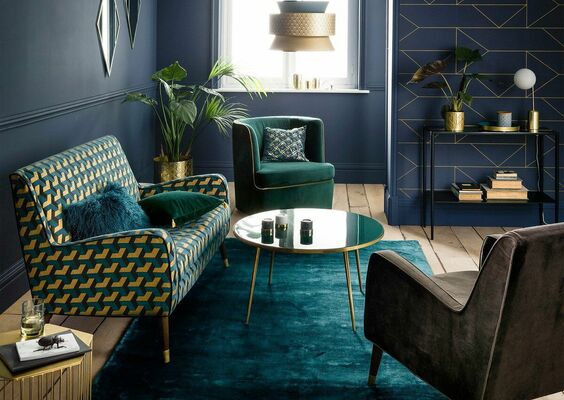 Art Deco Revival is quickly becoming one of our favorite design trends for 2019! Actually, it's a combination of the new aesthetic and Scandinavian concepts that make the look so luxe…
Whether you're doing a full re-design or want to bring just a hint of this style into your space, look for playful forms, optimistic colors, and geometric lines. Pieces created from natural materials elevates the style and add a hint of mid-century design thinking too. As always, a heritage-level of craftsmanship is worth investing in!
Color
Color green everywhere in 2019! In addition to green paint and upholstery, consider mixing in some live greenery, such as plants. Don't just space your plants around your home - use a mixture of different heights and textures, such as small trees mixed with smaller plants.
The soft gray tones of the previous year are on their way out. If you're looking to add a colorful pop to your home, appliances are a great place to start! They allow you to include bright bursts of color without overwhelming the room. If you want to subtly add more colors, consider pairing your bright appliances with a complimentary color.
For example, a bright coral-colored appliance would look great with a tasteful light blue. Living Coral is Pantone's Color Of The Year, and is a great place to start if you want to incorporate a bright and trending shade.
Furniture
Say hello to furnishings that can adapt to different spaces and needs and fit into challenging rooms that aren't short on style.
Popular in the 60's and ridiculed from then on, curved soft furnishings made quite an impact at recent design shows as rigid lines have had several decades in the spotlight and feel a tad routine and expected.
Note how the crimson velveteen sofa above lends this otherwise masculine room a much-needed sense of sensuality and subtle play that'll save it from being an of-the-moment fad soon to fade away. Curved lines take hold on tabletops and even rugs as of late, but their return to sofas and seating make it one of the most intriguing and even covetable 2019 interior design trends to consider bringing into your home — even if it's in the form of a simple side chair or utility bench.
Materials
Use fresh and natural materials such as stone, copper, wood, concrete and granite. These elements will help you bring an organic and serene atmosphere to any space while reflecting the world around your home.
For a stylish and modern space, wooden furniture pieces can be a highly effective addition. Decorating your home with beautiful wood furniture doesn't necessarily mean destroying the whole rain forest. You can buy furniture from one of the companies that use sustainable wood. It can be reclaimed, recycled or sustainably harvested wood.
Ceiling
The ceiling is often referred as the fifth wall but for years it has being neglected. While we spend hours agonizing about which paint color to use on our walls, the ceiling typically gets little to no thought at all.
How many times have you reached for that can of matte white paint to cover a ceiling in an otherwise colorful room?
We're making a case for the fifth wall. A statement ceiling can entirely transform a space — and instantly make it feel unique and memorable. If your room is already decorated but missing a little something, try looking up.